Liposuction Of The Upper Arms
Consultations offered at our two convenient locations in Beverly Hills and Los Angeles, CA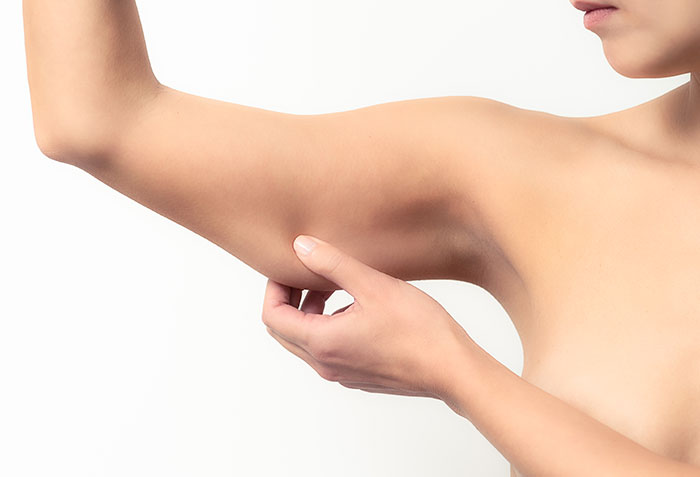 Anti-aging efforts are continuously being sabotaged by an unstoppable force; gravity. Nowhere is this more evident than in the upper arms, particularly for a woman. This is one area that is completely unresponsive to exercise and diet, no matter how many triceps lifts are done or how many calories are cut from the diet.
Fortunately there is a relatively simple solution to this problem. Upper arm liposuction is a commonly done procedure by board-certified plastic surgeon, Dr. Sean Younai.
As a top liposuction surgeon, he has gained extensive experience performing thousands of liposuction procedures in all areas of the body and for all sizes of patient, including highly effective arm liposuction in Beverly Hills at his office.
Benefits Of Arm Liposuction
Liposuction of the upper arm is the only way to reduce the stored fat and reshape the arm.
Often women are in good physical condition, yet their arms betray their age. In other cases, women have accumulated a large volume of fat in the upper arms and find it difficult to find clothing that fits properly. In some patients, an arm lift will be necessary because there is too much excess skin once the fat is removed. Patients with good skin elasticity can benefit from liposuction alone as the skin will adhere to the new contours of the arm over time.
Women who are sensitive about wearing sleeveless tops, bathing suits or tank tops can confidently expose their upper arms after a few short weeks following the procedure. Dr. Younai also addresses the small pockets of fat just above the armpit at the juncture of the arm and upper chest.
This 'bra fat' is very resistant to diet and exercise and without liposuction, will remain in that area.
Before and After Photos
Will Arm Liposuction Help Every Woman?
Yes, arm liposuction will reduce the fatty areas of the upper arm in everyone, but the final outcome depends on two important factors. The skill of the surgeon is the most important factor. A board certified plastic and cosmetic surgeon has gone through years of rigorous training, specializing in plastic surgery techniques.
Liposuction is actually a delicate surgical procedure and requires the surgeon to have intimate knowledge of the nerves and muscles of the upper arm.
Dr Younai is a top liposuction specialist and has thousands of before and after photos he happily shares with his prospective patients. This gives a realistic example of the results of people with similar characteristics for lower and upper arm liposuction.
The second most important factor is the size of the upper arm and the quality of the skin elasticity of the patient. In women with a large upper arm, the best result comes from a combination of liposuction and an arm lift. During the initial consultation and examination, Dr. Younai will recommend the best way of achieving a feminine slender arm profile. He wants you to feel you received the best results from upper arm liposuction Los Angeles has to offer.
Procedure
Dr. Younai has found the safest and most effective upper arm liposuction method is the tumescent method. This method allows him the most control in removing just the right volume of fat, so that he can contour the arm. This judgment requires not only great surgical technique, but also requires artistic ability in sculpting a natural and feminine upper arm.
In this process a special fluid containing anesthetic and a vaso constrictor is infused into the upper arm through two tiny incisions. This causes the arm fat to become solid and provides profound anesthetic properties which can last up to 24 hours.
The vaso constrictor is what makes this type of liposuction so much safer as it constricts the capillaries, making blood loss a non-issue. Usually only about 2 tablespoons is all that is lost with this process. A very thin rod or cannula is inserted and Dr. Younai then gently, and with great precision, moves the cannula under the skin. The excess fat is removed and Dr. Younai completes the sculpting process and in about an hour the procedure is completed.
Recovery
The small incisions are intentionally left open so that fluid the color of fruit juice can drain from the arms. This is the tumescent fluid draining which contains a very small amount of blood. A compression sleeve will be placed and must be worn continuously for 48 hours before the first shower is taken. After that, it will need to be worn for 3 to 6 weeks to ensure the skin has fully reattached to the tissues of the arm.
Patients will be tired and possibly nauseated following the procedure. Adult care is necessary for the first 24 hours to assist with simple tasks as needed. Pain and anti-nausea medication will be sent home with the patient with instructions on how to best take these medications.
Normal activities and exercise can be resumed when comfortable, usually within 3 to 6 weeks. Dr. Younai will advise his patients when best to start these activities based on their healing and comfort level.
Swelling and some bruising is normal and it is not unusual to see dimpling and unevenness for several weeks. This resolves over time as the body adjusts during your liposuction recovery process.
Learn More
Dr. Younai sees patients every day who want to improve their appearance and boost their self-confidence. As a top liposuction surgeon, he has performed thousands of liposuction procedures on all sizes of patients. Book an initial consultation to find out how to be proud to wear sleeveless clothing again, with among the most effective arm liposuction Beverly Hills and Los Angeles provide.
Schedule A Consultation With Dr. Younai
Call us at 818.386.1222, or schedule an appointment online.