Calf Augmentation
Consultations offered at our two convenient locations in Beverly Hills and Los Angeles, CA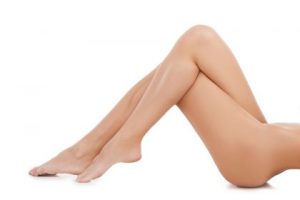 Calf augmentation is a specialized body sculpting procedure that involves using calf implants to add definition and volume to the lower legs. In this way, Dr. Younai is able to enhance both the appearance of the calves and the entire body, creating a more balanced overall look.
Dr. Younai typically performs his Beverly Hills calf augmentation when the patient has been unable to achieve their ideal lower legs through exercise alone. It's a common procedure for both men and women, although the surgery goals for each gender are quite different. For example, when calf augmentation is performed for a man, it is usually to emphasize the bulk and muscle tone of the calves.
Conversely, women tend to desire legs that are more shapely, feminine and anatomically proportionate to their thighs. In addition, calf augmentation can also be performed to correct defects due to injury, disease or congenital conditions, such as clubfoot or spina bifida.
How Is Calf Augmentation Performed?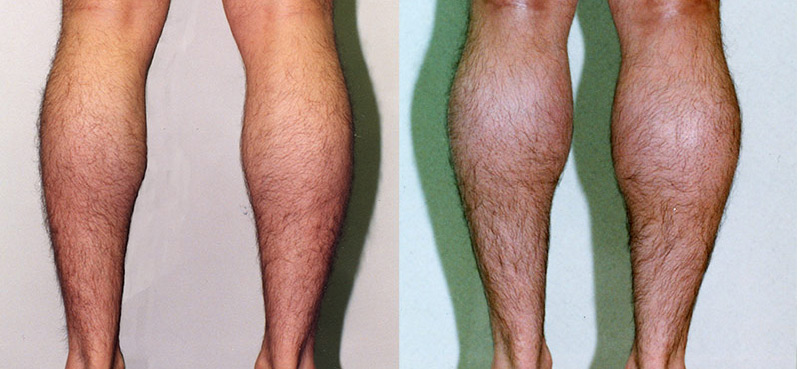 To prepare for your calf augmentation procedure, Dr. Younai will first measure your legs to determine which implant shape, size and position will best achieve your unique cosmetic goals and create the overall look you desire.
On the day of surgery, Dr. Younai will begin the procedure by administering general anesthesia or sedation to ensure your comfort and safety. He will then make a precise incision in the natural creases behind each knee, cutting through the skin and fascia (the sheet of connective tissue) covering the gastrocnemius muscle. From there, he will create a pocket for the implant in between the fascia and the muscle, before placing the implant and carefully closing the incisions with very fine sutures to minimize any scarring.
Before and After Photos
Recovery
As calf augmentation is a major surgery, there is a substantial recovery period associated with the procedure. For the first two days after your operation, you should stay in bed and keep your legs elevated at all times to reduce swelling and minimize any discomfort. A friend, family member or caregiver should be with you at all times during this initial period, to offer assistance when you need to walk to the bathroom or get something to eat or drink.
After the second day, you may remove your dressings, begin walking around the house and take short showers.
In terms of activity, you are advised to avoid any strenuous exercise like running, biking or weight-lifting for at least a month, with a full return to your normal activities within four to six weeks.
During your post-operative appointments, Dr. Younai will provide you with more specific guidance on when you can resume your normal daily routine.
Am I A Candidate For Calf Augmentation?
As with all of his cosmetic procedures, Dr. Younai determines candidacy for calf augmentation on an individual basis, following a full physical examination and a thorough discussion of your cosmetic needs, goals and desires.
With that said, almost any man or woman can be considered a good candidate for among the best calf augmentation Beverly Hills has available, as long as they are healthy and would like to achieve more sculpted and defined calf muscles.
In addition, calf augmentation is an appropriate procedure for individuals who have lost calf tissue due to medical conditions or trauma, and want to undergo calf augmentation as a reconstructive surgery.
Calf Augmentation Revision
Calf augmentation surgery can have risks and complications, just like any other cosmetic surgery procedure in Los Angeles. Dr. Sean Younai is a Board Certified Plastic Surgeon who has had more than 20 years experience in calf augmentation, including calf implant revision surgery.
Clubfoot Correction With Calf Implants
People who suffer from clubfoot deformity often have calf muscle wasting or atrophy which is not corrected with clubfoot surgery. Therefore, as adults, those who were born with club feet continue to have embarrassing deformities of their lower legs. This is associated with significant asymmetry or unevenness of the calves which draws attention when these people were shorts or skirts.
Getting Started
Undergoing a procedure to improve the size, shape and appearance of your calves is no small feat. That's why it's important to select a specialist you can trust for your calf implants – preferably a board-certified plastic surgeon with a proven track record helping men and women enhance their legs. With years of experience, countless successful procedures and a reputation for delivering among the best calf augmentation Los Angeles has available, few surgeons are more qualified than Dr. Younai to replace thin and flat lower legs with shapely and defined calves.
To get started, Dr. Sean Younai invites you to come into the office for a private consultation, at which point you will discuss your cosmetic goals and concerns, and he will create a custom surgical plan designed to achieve the ideal lower legs you desire.
Schedule A Consultation With Dr. Younai
Call us at 818.386.1222, or schedule an appointment online.