Calf Augmentation
Consultations offered at our two convenient locations in Beverly Hills and Los Angeles, CA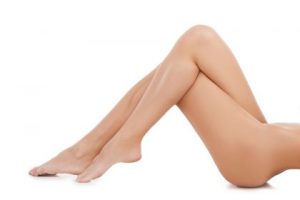 Calf augmentation is a body contouring surgery that uses silicone implants to accentuate the lower legs. The implants, made from a soft silicone gel, are specifically designed to withstand the rigors of physical movement yet gentle enough to mirror natural muscle tissue. When placed in the deep fascia of the lower leg or under the calf muscle fibers, the placements help achieve a natural-looking, toned appearance for the legs.
Dr. Sean Younai's practice has attracted patients in the Los Angeles area and beyond because of his indisputable results. His expertise in calf augmentation has helped him improve the appearance of men and women with a thin or uneven calf appearance. Interested men and women looking to emphasize their legs should consult with Dr. Younai at his Beverly Hills or West Hollywood office. Reach both offices by calling (310) 275-1971. Or, you can reserve your appointment online.
About Calf Augmentation
The novel idea of enhancing the lower legs came about in the 1970s. The initial treatment placed
solid silicone rubber implants subcutaneously just above the crural fascia. [1] Preliminary results were not ideal and often left patients with an unnatural leg appearance. However, several improvements throughout the years made the treatment more advantageous. The development of more structurally correct implant shapes and sizes was a breakthrough for the treatment. Furthermore, a better understanding of human anatomy led to better incisions and implant insertion techniques. Today, the treatment has helped patients shape their legs despite a congenital disability, accident, injury, or countless hours spent at the gym.
Calf Implants
Dr. Younai will discuss your choice to achieve anatomically correct calves at your consultation. Implants are made from a solid silicone elastomer or silicone shell filled with high-cohesive silicone gel and come in various shapes, sizes, contours, and textures. [1][2] The one used will depend on your ultimate aesthetics and unique physical condition.
Surgery
During surgery, an incision is made in the natural crease behind the knee. This incision will cut through the skin and the fascia (a thin layer of connective tissue) that covers the gastrocnemius muscle located at the back of the lower leg. [1] Then a pocket will be created so the implant can be secured. Once the surgery is complete, incisions are sutured closed.
Before and After Photos
Benefits
A calf augmentation allows patients to defy inherited genetics, a medical condition, and avoid time spent at the gym. By the end of the surgery, patients will see:
More visible tone and definition to the lower legs
Reduction of uneven or slender leg contours
Natural-looking, long-term results
Increase in self-esteem
Confidence in wearing shorts and other exciting clothing
Candidates
A calf augmentation has helped healthy men and women overcome difficulties in bulking up their leg appearance. Patients who desire shapelier, defined legs can use this helpful surgery to achieve an ideal aesthetic. Before your surgery begins, Dr. Younai will meet with you to determine if your goals can be met with surgery.
Ideal Patients for Calf Augmentation
Do not have serious health conditions that would impede their ability to recover
Struggling to gain results with diet and exercise alone
A desire to correct irregular leg appearance caused by genetics, trauma, or accident
Not currently pregnant or nursing a child
Willing to faithfully follow aftercare instructions
Have positive, attainable aesthetic goals in mind
Personal Consultation with Dr. Younai
For over 25 years, Dr. Sean Younai has been one of the leading cosmetic surgeons in Southern California. He prides himself in providing patients with a rewarding experience inside a state-of-the-art Beverly Hills or West Hollywood facility. Countless patients have praised our staff for providing supportive, friendly, and devoted cosmetic services.
Initial Consultation
Dr. Younai will talk about how you can gain a pair of attractive legs at your initial meeting. First, we'll gain insight into your case by asking about your medical history and aesthetic desires. Then, Dr. Younai will visually inspect your lower legs. After that, he will explain the benefits of the treatment.
How to Get Started
The compassionate staff at Younai Plastic Surgery is here to make patients' desires come true. Interested patients can take the first step in achieving impressive-looking legs by calling (310) 275-1971 for a personal consultation. Out-of-town patients can also book their initial appointment from the comfort of their own homes by booking a virtual consultation.
Preparation
Dr. Younai will advise you to follow a list of instructions to complete weeks before you arrive for surgery. Finishing these items will allow you to glide through the surgical and recovery stages. He will direct you to:
Stop smoking cigarettes or using nicotine products to ensure the blood flow needed for a successful recovery.
Delegate driving and caretaking duties to a friend or family member. The after-effects of surgery will affect your mobility for a few days.
Take a break from certain medications or supplements, as instructed, because they may cause unnecessary bleeding.
Arrange to take a few weeks off from work.
Purchase a mobility assistance device such as a walker, cane, or crutch.
Go to the pharmacy and fill the prescribed recovery medication.
Set up a comfy recovery space at home with essential items within easy reach.
Procedure
Your calf implant procedure will occur at our Beverly Hills or West Hollywood office. Either way, we'll make sure you're comfortable and relaxed when you arrive. Dr. Younai will perform preoperative formalities by making surgical markings and administering general anesthesia. Once you're asleep, we'll begin by making a discreet incision at the back of the knee. [3] A pocket will be either underneath the membrane that covers the muscle (subfascial), [2] below the skin (subcutaneously), [2] or just below the deep fascia calf muscles (submuscular). [1] From here, we'll carefully maneuver the implant securely into place. Once the desired aesthetic is created in 4-6 hours, the incision is sutured closed, and the treatment area is covered with a compression garment.
Calf Augmentation Revision
Dr. Younai offers revision surgery to patients unhappy with their initial results, experiencing implant displacement, noticing implant hardening, or getting a routine exchange. In these cases, patients have the choice of exchanging their implants for new ones or removing them. Dr. Younai will make incisions based on your initial treatment to reduce scarring during surgery. Then, he will either replace your existing implants with a newer model or remove the implant altogether. 
In rare cases such as capsular contracture, implants and scar tissue will be removed to avoid affecting tissue. Then, either a new implant will be placed inside or taken out.
Recovery
Plan to get plenty of rest when you get home because the mild effects of discomfort, swelling, bruising, and stiffness in the legs will affect your energy for several days. However, the medications, elevating your legs, and reducing physical movement will improve your symptoms. After 1-2 weeks, you can start to make short brisk movements with a medical walker. After two weeks, patients will notice significant improvements in their symptoms, to the point where they will be encouraged to walk as much as possible without assistance. They will help with getting used to the implants, loosening the skin, and allowing the implants to settle. In 2-3 weeks, you can gently ease into your light activities, including work. But hold off on strenuous movements, such as exercising and weightlifting until after 4-6 weeks. During their recovery, patients will return to our office to remove the compression garments and check their healing progress.
Results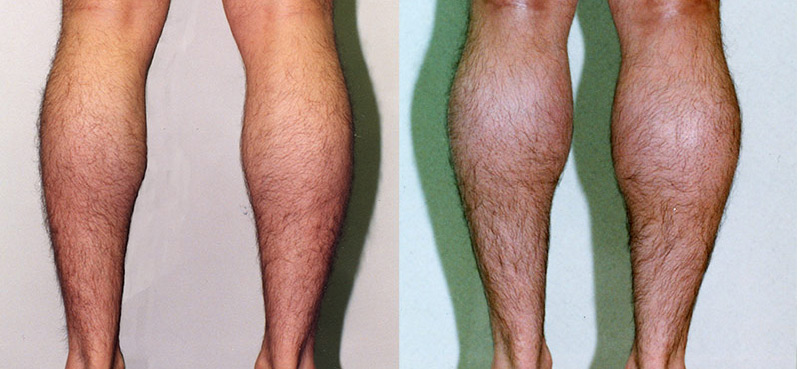 Exciting, accentuated contours will be immediately noticeable after your surgery But give it time! Your final results will need time to emerge, and for the swelling to subside. When they do, you can look forward to emphasized leg contours that can be kept for ten years or longer. After this time period, you will need to have your implants replaced or removed as recommended by the FDA.
Cost of Calf Augmentation in Los Angeles
The pricing for a calf augmentation will be influenced by the kind of results you wish to gain and your unique physical traits. Your specific treatment may range between $7,800 and $10,000. During your initial appointment, Dr. Younai will discuss these concerns and refer you to helpful financing tools.
FAQ
Do calf implants last forever?
Implants are helpful medical prostheses that offer a long-term solution to correcting cosmetic imperfections. However, they do not last forever. Patients can receive revision surgery in 10-20 years to replace their implants with newer ones or remove them altogether.
Will I be able to exercise after a calf augmentation?
Yes, you will be able to exercise after you're recovered. Calf implants will not prevent you from developing or building leg or calf muscles.
What happens if I sustain an injury to the legs? 
Impacts are incredibly resilient and can withstand injury or trauma. But, medical attention may be required in cases of deep laceration directly over the implants. Nonetheless, consult with your primary doctor to detect irregularities in the implant structure.
References
Niechajev, I., & Krag, C. (2017). Calf Augmentation and Restoration: Long-Term Results and the Review of the Reported Complications. Aesthetic Plastic Surgery, 41(5), 1115–1131. https://doi.org/10.1007/s00266-017-0885-0
Niechajev, I. (2005). Calf Augmentation and Restoration. Plastic and Reconstructive Surgery, 116(1), 295–305. https://doi.org/10.1097/01.PRS.0000170050.86464.8E
Pereira, L. H., Nicaretta, B., & Sterodimas, A. (2011). Bilateral Calf Augmentation for Aesthetic Purposes. Aesthetic Plastic Surgery, 36(2), 295–302. https://doi.org/10.1007/s00266-011-9799-4