Arm Lift Beverly Hills
Consultations offered at our two convenient locations in Beverly Hills and Los Angeles, CA
An arm lift, or brachioplasty, is a cosmetic surgical procedure that improves the appearance of the upper arms. An arm lift tightens loose, sagging skin, and adds contour to arms in a way that diet and exercise alone cannot. An arm lift can reverse unwanted changes to the arms caused by aging, genetics, or weight loss.
Brachioplasty may also be combined with liposuction to remove pockets of excess fat for a more sculpted appearance in the arms and improved proportions.
Dr. Sean Younai can create smooth, contoured arms that better fit the rest of your figure. If you are ready to enjoy firm, taut arms, contact our Beverly Hills office today at (310) 275-1971 to set up an appointment. You may also get in touch through our contact form online.  
Before and After Photos
About Arm Lifts
Arm lifts are often performed on individuals who have undergone massive weight loss through bariatric surgery.(1) Once large amounts of fat have been eliminated, the overlying skin is unable to "snap back," and patients are left with skin hanging from the undersides of their arms. Individuals may also suffer from sagging upper arms as a result of genetics, or a significant loss of elasticity from the natural aging process.
Having loose, excess skin on the upper arms can make it difficult to find sleeved clothing that fits properly, and keep patients from wearing sleeveless shirts altogether, which can be uncomfortable in warm climates. Besides affecting a patient's self-confidence, this excess tissue can also lead to skin irritation and impair movement.(1) 
Unfortunately, sagging skin cannot be removed by changing the foods you eat, using skin creams, or exercising. The only effective solution is surgery. Because arm lift surgeries by nature require incisions to address the length of the upper arm, patients will need to anticipate some visible scarring. However, skilled surgeons like Dr. Younai perform a variety of techniques that can ensure that any scarring is discreet as possible. 
Arm Lift Techniques
Dr. Younai utilizes two techniques for his Los Angeles arm lifts: a traditional arm lift and a mini arm lift. During your initial consultation, he will advise which of these options will most effectively create the slimmer contours you desire.
The upper arm lift involves an incision in the armpit and along the underside of the arm, extending to the elbow. Through that lengthy opening, Dr. Younai can remove a substantial amount of excess skin and fat from the upper arms. This option is most appropriate for patients who have a considerable amount of excess volume to address, as it can provide a dramatic improvement in the appearance of your arms.
Mini Arm Lift
The mini arm lift, also known as a limited incision arm lift, involves a much smaller incision in the armpit only. Through that opening, Dr. Younai will remove excess skin and fat to create a slimmer and more beautiful shape. As it's less intensive than the traditional upper arm lift, this procedure is the ideal option for patients who don't have as much excess volume to address. It's typically used for patients who have experienced moderate weight loss or a less substantial loss of elasticity due to the natural aging process.
Brachioplasty can also be combined with liposuction of the arms to reduce their fullness. Depending on the amount of loose skin on the upper arm and outer chest, a brachioplasty scar can extend not only the entire length of the arms, but also onto the outer chest. However, these scars make wearing sleeveless tops very challenging.   

Unfortunately, arm lift scars can be prominent and unsightly. Women who hate their large, hanging arms often have poor skin elasticity and therefore are unable to tighten or shrink their inner arm skin with liposuction alone, as the problem is excess skin rather than fat. The only solution left for them is to have their hanging arm skin surgically removed, which can result in a long arm scar, extending the entire length of the upper arm!
Dr. Younai has developed a hidden scar technique to minimize the appearance of scarring from an arm lift. The Hidden Scar Brachioplasty creates an incision at the lowest junction of the front and back of the arm (where the seam of a sleeve would go). As a result, scarring appears less visible and cannot be seen from the front or back of the arm. This technique can also be used in the removal of outer chest skin folds. The incision can be extended to just underneath the breast folds.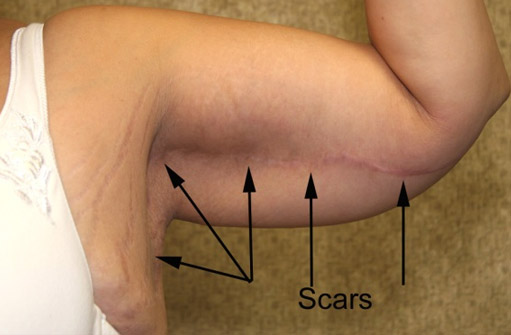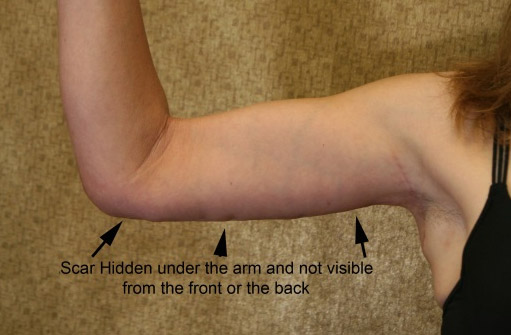 Benefits 
Benefits of arm lift surgery include:
Long-term results
Increased self-esteem
Removal of stubborn fat deposits
Improved clothing fit and clothing choices
Permanent removal of excess, inelastic skin that has collected in the upper arms
Tightening and redraping of remaining skin for arms that look more toned and firm
Candidates
Some of the prerequisites for arm lift surgery include:(1)
Non-smoker
Generally good health
Realistic expectations of what the procedure can accomplish
Body mass index (BMI) less than or equal to 30
Desire to address drooping skin on the upper arms that exists as a result of genetics, weight loss, or aging
Brachioplasty may not be the right corrective procedure for all candidates such as those who are unwilling to quit smoking or have health conditions such as lymphedema, peripheral arterial ischemia, and diabetes.(1) Patients with a BMI over 30 may also be considered on a case-by-case basis. 
Personal Consultation
Dr. Younai is a board-certified plastic surgeon whose arm lift procedures have given patients renewed confidence in their bodies. In your consultation, we will discuss your cosmetic goals and concerns, and develop a customized surgical plan for treatment. Contact us today in our Beverly Hills office to set up an appointment by calling (310) 275-1971, or messaging via our online contact form. We also invite you to visit our blog to learn more about our work helping patients.  
Preparation
These preparation guidelines can help patients to experience the best results possible from brachioplasty:
Fill prescriptions before surgery to have on hand as you recover.
Request at least two weeks off of work, depending on the physical demands of your job.
Review medications, vitamins, and supplements that you are taking with Dr. Younai before your procedure. You may need to stop taking certain medications to prevent complications.
Prepare your home, as you will have limited mobility during the recovery period.
Arrange for a family member or friend to drive you to and from the treatment facility on the day of the procedure and assist you during the first few days of your recovery.
Procedure
An arm lift generally takes between one and three hours depending on the type of arm lift being performed.
Your surgeon will make preoperative markings.
Anesthesia, either general or local with intravenous sedation, will be administered depending on your surgeon's recommendation.
Incisions will be made. The type of incision made and its length will depend on the treatment location and the amount of skin to be removed.
Your surgeon will remove excess sagging skin, and some fat may be able to be excised as well. Brachioplasty may be combined with liposuction to treat larger fat deposits.
Your surgeon will tighten and reshape underlying supporting tissues, and close the incisions in layers to ensure minimal scarring and adequate tension.
Recovery
Immediately after your arm lift surgery in Beverly Hills, some pain and swelling in the area is completely normal and to be expected. Dr. Younai will prescribe medication to help you manage this discomfort as you heal. To reduce swelling, you'll be advised to keep your arms elevated as often as possible. Most patients recover two to three weeks after brachioplasty. In most cases, patients may return to moderate physical activity about one month after surgery, with a full return to strenuous exercise within six weeks.
Results
New upper arm contours can take about four to six weeks to become visible. Adipose tissue removal from the upper arm is permanent. The firmer, tighter arm contour should last at least a decade given patients practice healthy eating habits and exercise regularly to maintain muscle tone. Results may still be impacted somewhat by natural sagging that occurs with the aging process, or weight fluctuations.
Scarring
After your arm lift, you will have a scar that extends between the elbow and armpit or on the underarm. Scarring will fade most closely to a patient's skin tone after about 12 months. To further reduce the appearance of scarring, we recommend:
Using high-SPF sunscreen
Avoiding excessive sun exposure
Using a medical-grade scar cream
Controlling swelling by sleeping with arms elevated in the first two weeks after treatment
Cost of Arm Lift Procedures in Beverly Hills
An arm lift can help improve patients' self-esteem through a better-defined upper arm appearance. However, achieving this end also requires a financial commitment. The cost of an arm lift will vary slightly from patient to patient depending on their treatment plan. Please contact us at our Beverly Hills office for a quote, at (310) 275-1971.
References
Nagrath N, Winters R. Brachioplasty. [Updated 2023 Jan 3]. In: StatPearls [Internet]. Treasure Island (FL): StatPearls Publishing; 2023 Jan-. Available from: https://www.ncbi.nlm.nih.gov/books/NBK585115/.
Di Pietro V, Colicchia GM, Cervelli V, Gentile P. Arm Contouring After Massive Weight Loss: Liposuction-Assisted Brachioplasty Versus Standard Technique. J Cutan Aesthet Surg. 2018 Apr-Jun;11(2):73-78. doi: 10.4103/JCAS.JCAS_102_17.