Arm Lift Beverly Hills
Consultations offered at our two convenient locations in Beverly Hills and Los Angeles, CA
Sagging skin and excess fat on the upper arms is rarely responsive to diet and exercise alone, resulting in a permanently soft appearance no matter how much time you spend at the gym.
In these cases, Dr. Younai will commonly perform a Beverly Hills arm lift, or brachioplasty, to eliminate any excess volume and create smooth and contoured arms that better fit the rest of your figure.
How Is An Arm Lift Performed?
Dr. Younai utilizes two techniques for his Los Angeles arm lifts: an upper arm lift and a mini arm lift. During your initial consultation, he will advise on which of these options will most effectively create the slim and youthful look you desire.
Upper Arm Lift
In most cases, excess volume has occurred due to rapid, major weight loss or a significant loss of elasticity from the natural aging process.
The upper arm lift involves an incision in the armpit and along the underside of the arm, extending to the elbow. Through that lengthy opening, Dr. Younai can remove a substantial amount of excess skin and fat from the upper arms. This option is most appropriate for patients who have a substantial amount of excess volume to address, as it can provide a dramatic improvement in the appearance of your arms.
Mini Arm Lift
The mini arm lift involves a much smaller incision in the armpit only. Through that opening, Dr. Younai will remove excess skin and fat to create a slimmer and more beautiful shape. As it's less intensive than the traditional upper arm lift, this procedure is the ideal option for patients who don't have as much excess volume to address.
It's typically used for patients who have experienced moderate weight loss or a less substantial loss of elasticity due to the natural aging process.
Anesthetic
Regardless of the technique used, Dr. Younai will begin the procedure by administering either general anesthesia or intravenous sedation to ensure your comfort and safety. From there, he will carefully place the incisions so the resulting scars are as discreet as possible. He will then remove the excess volume and trim away surplus skin, before carefully closing the incisions to minimize any scarring.
Before and After Photos
Arm Lift Scars
Hidden Scar Brachioplasty Or Arm Tuck
Arm Lift scars can be very visible and unsightly. Women who hate their large hanging arm fat seek brachioplasty in order to remove excess arm skin fold. Unfortunately, women who have had weight loss, also have lost their skin elasticity and therefore are unable to tighten or shrink their inner arm skin with liposuction. The only solution left for them is to have their hanging arm skin surgically removed, which can result in a long arm scar, extending the entire length of the upper arm!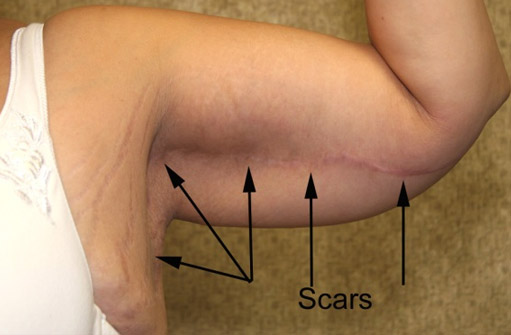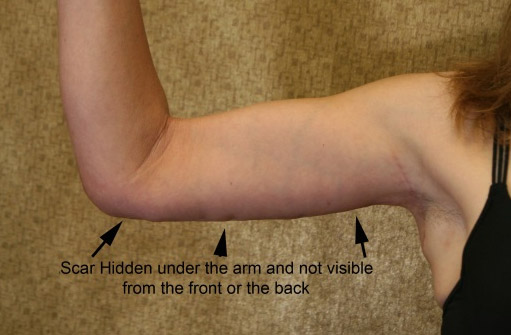 Arm Lift Techniques In Los Angeles
An arm tuck, otherwise called by plastic surgeons as a Brachioplasty, is a procedure when the excess hanging upper and inner arm skin fold is surgically removed. Brachioplasty at times is also combined with liposuction of the arms in order to reduce the fullness of the arms. Depending on the amount of loose upper arm and also the outer chest skin, a Brachioplasty scar can extend not only the entire length of the arms, but also onto the outer chest and besides the breasts.
These scars make wearing sleeveless tops very challenging.
Arm Lift Scars
Most plastic surgeons that specialize in post-weight loss body contouring use one of the two techniques for arm tuck or brachioplasty in Los Angeles. Depending on the skin removal technique, the brachioplasty scar is either placed in the inner arm which shows when a person opens their arms; or in the back of the arms, which shows from the back!
In order to avoid the very visible arm tuck scars, Dr. Sean Younai has devised a Hidden Scar Brachioplasty Technique which places the scar at the lowest junction between the front and the back of the arm, more or less, where the seam of a jacket would go.

In this way, the Brachioplasty scar would not be visible from either the front or the back! In fact, this new arm tuck technique can also be used to remove the outer chest skin folds, by extending this scar under the breast folds.
Recovery
Immediately after your arm lift surgery in Beverly Hills, some pain and swelling in the area is completely normal and to be expected. Dr. Younai will prescribe medication to help you manage this discomfort as you heal. To reduce swelling, you'll be advised to keep your arms elevated as often as possible.
Post-Surgery Activity
In terms of activity, you won't be able to return to work or your normal daily routine until at least two weeks after surgery. During this time, light walking is important since it can stimulate the healing process. In most cases, you will be able to return to moderate physical activity one month after surgery, with a full return to strenuous exercise within six weeks.
Am I A Candidate For An Arm Lift?
As with all of his cosmetic procedures, Dr. Younai determines candidacy for an arm lift on an individual basis, following a full physical examination and a thorough discussion of your cosmetic needs, goals and desires.
With that said, an ideal candidate for among the best arm lift Beverly Hills has available is generally a healthy, non-smoking man or woman who has realistic expectations of what an arm lift can accomplish. In addition, you should want to address drooping skin along the upper arms due to weight loss, pregnancy or the natural aging process.
Getting Started
Undergoing a procedure to remove excess volume from your upper arms is no small feat. That's why it's important to select a specialist you can trust for your arm lift – preferably a board-certified plastic surgeon with a proven track record helping patients achieve their ideal bodies.
With years of experience, countless successful procedures and a reputation for delivering among the best arm lift Los Angeles has available, few surgeons are more qualified than Dr. Younai to create slim and sculpted arms that better fit your figure.
To get started, Dr. Sean Younai invites you to come into the office for a private consultation at one of his Los Angeles-area offices, at which point you will discuss your cosmetic goals and concerns, and he will create a custom surgical plan designed to achieve the ideal arms you desire.
Schedule A Consultation With Dr. Younai
Call us at 818.386.1222, or schedule an appointment online.