Plus Size Tummy Tuck
Consultations offered at our two convenient locations in Beverly Hills and Los Angeles, CA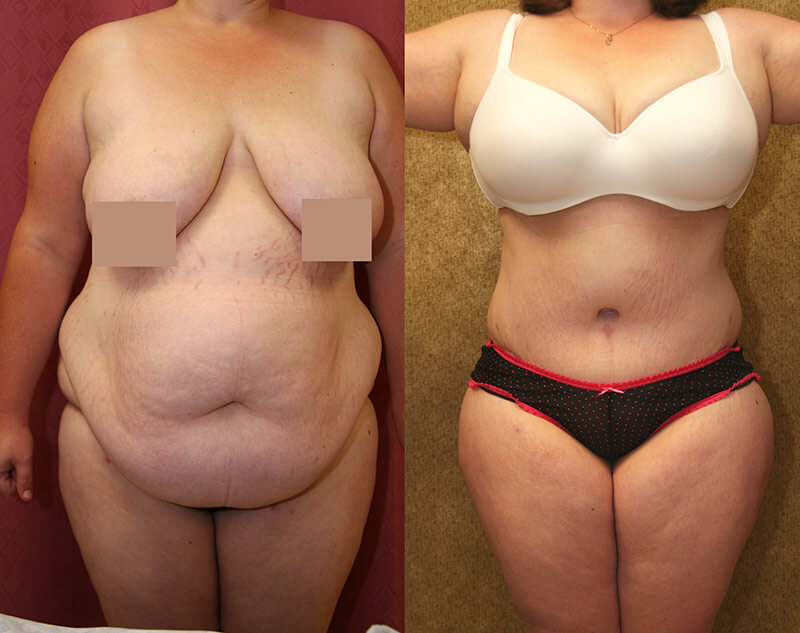 Plus sized patients often ask Dr. Younai if they are good candidates for a tummy tuck. Larger patients can safely have a tummy tuck when done by a board-certified plastic surgeon with experience treating those who have experienced massive weight loss or are carrying substantial weight.
Dr. Younai delivers safe plus size tummy tuck in Beverly Hills and Los Angeles, and frequently treats patients with a high Body Mass Index who are in good health and have their weight stabilized.
Options For Plus-Size Patients
Most people have heard about tummy tuck or abdominoplasty. It is exciting to contemplate quickly getting rid of hanging skin in the belly while at the same time tightening up abs for a flat tummy. With larger patients there may be better options such as a body lift.
A body lift is done on patients with substantial excess skin and sagging in both the belly and the buttocks. This procedure removes excess skin from the abdomen, flanks (love handles) and back and lifts the buttocks and thighs while tightening the muscles. Liposuction is done during the procedure to remove fat from the flanks and back which defines the waist and improves the overall effect.
Before and After Photos
High Tension Tummy Tuck For Plus-Size Patients
Dr. Younai specializes in High Tension Tummy Tuck for plus size patients. This procedure gives excellent results to patients of size.
It can effectively:
Tighten the abdomen
Tighten the abdominal wall
Lift the buttocks and thighs
Tighten the buttocks and thighs
Potentially remove stretch marks (when the loose skin is removed)
The technique is named for the way in which the muscles are tightened and the manner in which the incision is closed. The tension is directed at lifting the lower body and is a specialized technique that few surgeons have mastered.
Body contouring often involves treating several areas of the body to ensure a natural balanced result. Limiting the treatment area to only the abdomen in large patients will not usually produce the effect that was hoped for, especially in doing tummy tuck for overweight people with excess skin or fat in more areas than just the abdomen.
Tummy Tuck Slideshow
Liposuction And Tummy Tuck
During the initial consultation, Dr. Younai examines his prospective patients so he can provide his recommendations on the best way to proceed. Plus size patients may need to stage their surgery to get the most benefit. For example, it might be prudent to initially have a series of liposuction treatments to reduce body mass before having a plus size tummy tuck or abdominoplasty.
Health Concerns
If there are any underlying medical conditions such as diabetes, high blood pressure, asthma or breathing difficulties, these must be fully optimized before Dr. Younai will perform elective surgery.
Patients who are gaining weight, or who are experiencing large fluctuations in weight should wait until their weight is stable before undergoing a tummy tuck or any related procedure. Otherwise the results will be temporary.
Dr. Younai is also a specialist in large volume liposuction. Patients who are staging their procedures may wish to lose a large volume of fat through liposuction as part of their plan.
Conclusion
Dr. Younai will recommend a course of action that safely helps patients achieve their image goals, thus instilling confidence and self esteem. Nothing makes Dr. Younai happier than helping his patients live a better life. That is why he delivers among the best plus size tummy tuck Los Angeles and Beverly Hills have to offer, according to his peers and his many delighted patients.
Contact his office to arrange a consultation and get started on the path to your shapely, healthy new body.
Schedule A Consultation With Dr. Younai
Call us at 818.386.1222, or schedule an appointment online.