MALE BREAST REDUCTION BEVERLY HILLS
Consultations offered at our two convenient locations in Beverly Hills and Los Angeles, CA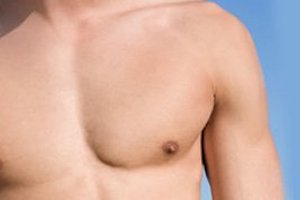 An extremely common and embarrassing condition, gynecomastia results in enlarged breast tissue in men, creating an overly feminine appearance. Though the exact cause is not known, it may develop due to abnormal hormone levels, congenital factors, glandular disorders or the use of some medications.
While it's not a serious health problem, gynecomastia can create a great deal of emotional distress, causing many men to feel self-conscious about their looks. Fortunately, Dr. Younai has been very successful in treating the condition in countless patients, through a specialized procedure called gynecomastia surgery, also known as male breast reduction.
In this way, he is able to create a muscular and well-defined chest that restores both a more masculine appearance and renewed confidence, with among the most effective male breast reduction Los Angeles has to offer.
How Is Male Breast Reduction Surgery Performed?
To begin the procedure, Dr. Younai will first administer general anesthesia to ensure your comfort and safety. He will then make a precise incision along the border of your areola and excise excess breast tissue from the area. Depending on the amount of surplus fat present, he may also perform liposuction to remove any remaining volume and blend the contours of the chest to ensure a natural overall appearance.
Once all of the problematic fat and tissue have been removed, Dr. Younai will close the incisions with dissolvable stitches to minimize any scarring. The results of your procedure will be visible immediately, and they will continue to improve as you progress through the healing process, eventually revealing a defined and masculine chest.
Before and After Photos
Most men who suffer from Gynecomastia, otherwise known as "male boobs", can be easily treated by standard Gynecomastia surgery techniques in Los Angeles. Unfortunately, there are many men who have severe gynecomastia with extreme dropping and sagging of breasts.
These are often professionals who feel embarrassed to take off their shirts at the pool or the gym. They also complain that their large male breasts show from under their shirts which always forced them to wear very loose shirts. Even worse, they have to bind their chest when they go jogging or exercise not to have their hanging male breast flop around!
What Are The Standard Techniques For Male Breast Reduction?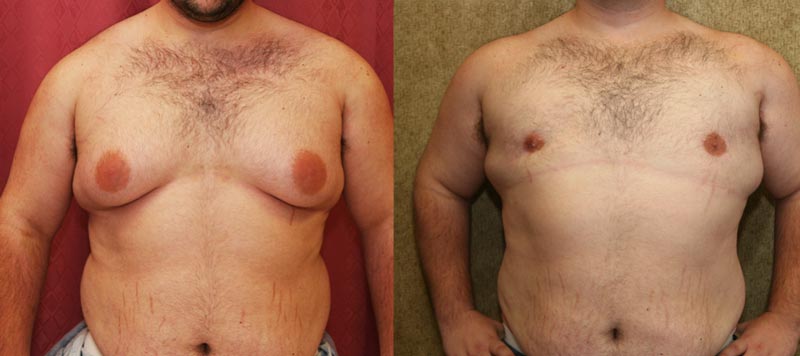 In cases of severe gynecomastia, after weight gain or weight loss, where is excess hanging skin most plastic surgeons perform some type of skin excision in a similar way to female breast reduction surgery. These result in large scars on the chest. While women usually wear bikini tops, men cannot hide their gynecomastia surgery scars at the pool! Unfortunately, these ugly chest scars forces many men to avoid gynecomastia surgery, and to continue to suffer from hanging male boobs.
What Is The "Small Incision Male Breast Reduction" Technique?
Dr. Sean Younai who is an expert in Gynecomastia surgery in Beverly Hills uses a technique where the bulk of the breast mass is first removed through small stab incisions in the arm pit by liposuction. Once the chest volume has been significantly reduced, the remaining breast gland is teased out through a small one-half inch incision hidden in the areola.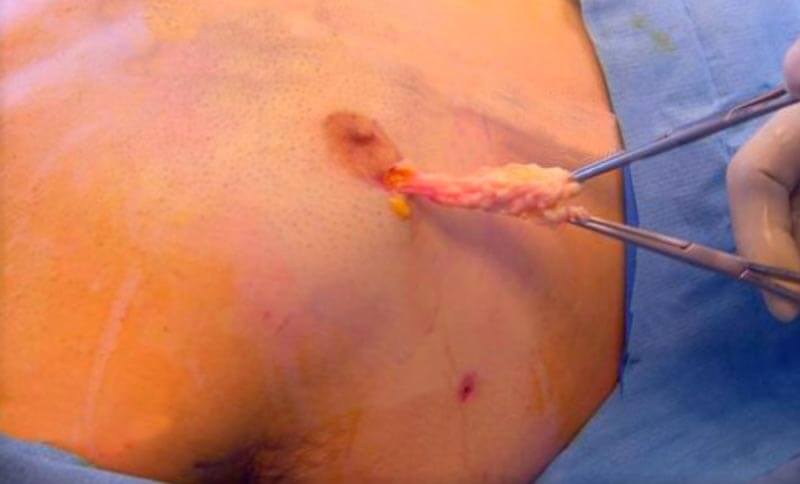 Why Small Incision Gynecomastia Surgery Works?
Many people wonder what happens to the excess hanging breast skin after the male breast gland and fat is removed. Fortunately, many men still have significant elasticity of their chest skin which results in the shrinkage of the hanging skin.
In a minority of cases, after the breast skin retracts, there might be a 10% remaining excess skin. At a second stage, this minor skin is usually removed through a small incision at the periphery of the areola, which would not show after proper healing.
Recovery
For the first few days after your Beverly Hills male breast reduction, you can expect bruising, swelling, pain and tenderness in the area, though it should be manageable with your prescribed pain medication from Dr. Younai.
In most cases, you will feel well enough to return to work within a week, as long as your job is not physically demanding.
These side effects will be the most severe in the first two days after your procedure, and will gradually subside and improve over time.
In terms of activity, you should take it easy as you heal from your procedure. For the first one to two weeks, refrain from impact cardio and any strenuous activity that involves the chest and arms. Also, you'll want to avoid weight-lifting until it's been a full month since your procedure, when your chest is farther along in the healing process.
Dr. Younai will offer personalized guidance on when you can resume all of your regular activities during your post-operative appointments.
VIEW MORE RESULTS
Am I A Candidate For Male Breast Reduction Surgery?
As with all of his cosmetic procedures, Dr. Younai determines candidacy for gynecomastia surgery on an individual basis, following a full physical examination and a thorough discussion of your cosmetic needs, goals and desires.
With that said, an ideal candidate for among the best male breast reduction Beverly Hills has to offer is generally a healthy, non-smoking man who is bothered and embarrassed by enlarged breasts. A good candidate is also at a normal body weight and has suffered with gynecomastia for at least twelve months. In addition, you may be considered for male breast reduction surgery if:
You experience physical discomfort from enlarged male breasts.
You suffer emotional distress, anxiety and a loss of confidence due to your condition.
Your breasts prevent you from enjoying life, wearing certain clothes and taking off your shirt.
Your breast development has stabilized.
Your enlarged breasts are not responsive to diet and exercise.
Getting Started
Male breast reduction surgery is a serious procedure, and complications can arise if it's not performed properly. That's why it's important to select a specialist you can trust for your surgery – preferably a board-certified surgeon with a proven track record helping men achieve their ideal bodies.
With years of experience, countless successful procedures and a reputation for delivering among the best male breast reduction Los Angeles has available, few surgeons are more qualified than Dr. Younai to permanently eliminate your excess breast tissue and dramatically improve your quality of life.
To get started, Dr. Sean Younai invites you to come into the office for a private consultation, at which point he will carefully evaluate your breasts and compose a custom surgical plan designed to eliminate your gynecomastia for good and achieve the ideal, masculine appearance you deserve.
Schedule A Consultation With Dr. Younai
Call us at 818.386.1222, or schedule an appointment online.