Male Tummy Tuck
Consultations offered at our two convenient locations in Beverly Hills and Los Angeles, CA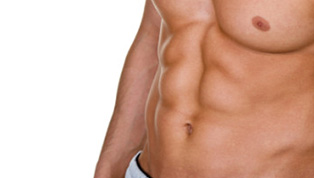 Looking fit and young is highly valued in today's society, particularly when working in a highly competitive job market. Aesthetic cosmetic surgery has now become a popular vehicle for men who feel young and fit but feel their appearance conflicts with their self-image.
Dr. Sean Younai, a Beverly Hills & Los Angeles board-certified plastic surgeon has had a surge of male patients coming into his practice. Staying competitive in the job market is one of the top reasons that men seek to improve their appearance through cosmetic surgery.
Regaining That Youthful Physique
One of the more troublesome areas that Dr. Younai treats in men is the abdomen. As a prominent tummy tuck specialist in Beverly Hills & Los Angeles, he frequently performs tummy tucks for men. Tummy tuck surgery is also called abdominoplasty, and is used to remove hanging skin and to tone up the midsection. This procedure is frequently done along with liposuction to get the best result.
Before and After Photos
Major Weight Loss
Men who have achieved major weight loss find that having tummy tuck surgery is the final step to finally achieving the slim, toned midsection they have been working so hard to achieve. Stretched skin that has lost elasticity will not tighten on its own. A tummy tuck for men not only removes excess skin folds, it also tightens stretched stomach muscles.
Types Of Male Tummy Tuck
There are three types of tummy tuck:
Mini Tummy Tuck
The incision is quite small, running the width of the pubic bone.
This procedure removes the small pouch of skin falling below the navel but does not tighten any of the underlying muscles. The excess skin is removed and the incision is closed.
As in all tummy tuck procedures done by the best tummy tuck surgeons in Beverly Hills & Los Angeles, incisions are planned to be very low on the torso to enable garments to cover the scars.
Standard Tummy Tuck
The scar is more extensive than in the mini tummy tuck procedure, but it is concealed very well by clothing.
The incision for a standard tummy tuck goes from hip bone to hip bone, in a curve running very low, just above the pubic hair line.
Excess skin is removed and pockets of remaining fat will be excised to ensure the final result is smooth. The underlying muscles are tightened with sutures and the incision is closed.
Extended Tummy Tuck
This is an expanded version of the standard male tummy tuck.
In this procedure, Dr. Younai removes excess skin from the abdomen as well as the hips and the flanks. Liposuction can be done if necessary to remove excess fat deposits.
The underlying muscles are tightened and the navel is repositioned. The incisions are longer, extending around the hips but the overall improvement in shape compensates for this and much of the scar is concealed by clothing.
Combined Procedures
For some patients, the best result will be achieved by having high tension abdominoplasty. Also called a body lift, it differs from a tummy tuck in the way the incision is closed. Dr. Younai removes excess skin from the abdomen and the lower back and tightens the underlying muscle structure in such a way that the buttocks and thighs are lifted.
This is particularly effective in men who have undergone extensive weight loss and have significant sagging in the mid region of the body.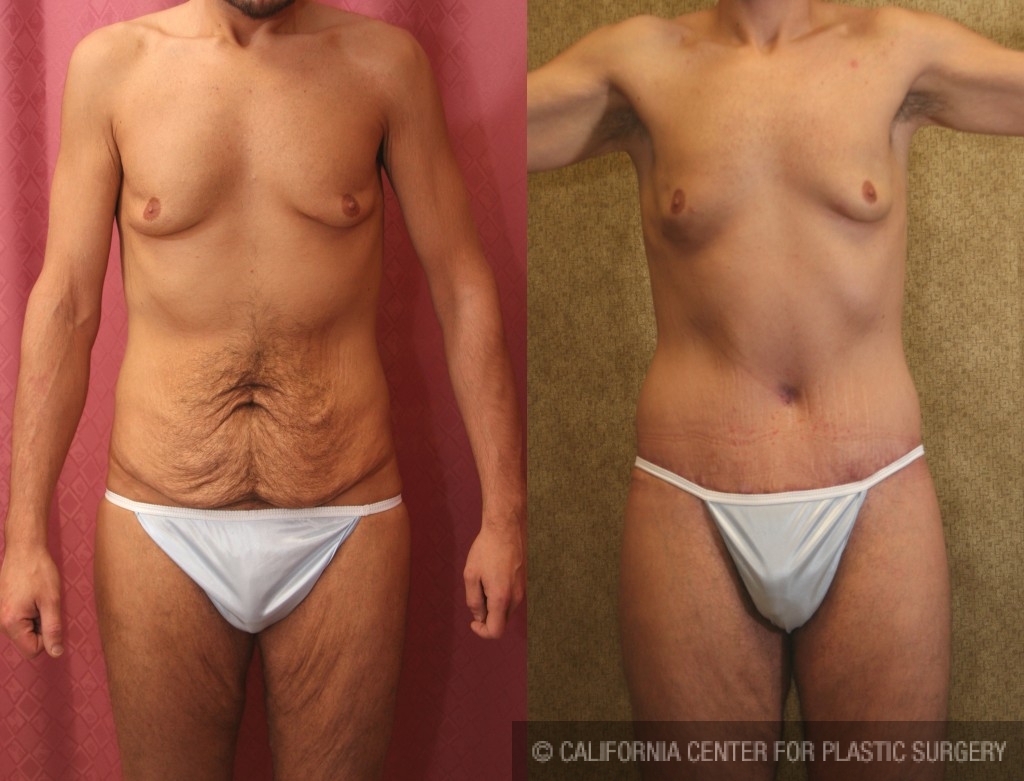 VIEW MORE RESULTS
Procedure
The surgery takes between 3 and 7 hours depending on the size of the patient and the extent of the procedure. It is done under general anesthetic at Dr. Younai's state of the art Regency Surgical Center. An overnight stay may be required. Otherwise, patients are discharged 2 to 3 hours following surgery to complete their recovery in the comfort of their own home.
Recovery varies with the extent of the procedure done.
Patients are given full instructions on the recovery process during the preoperative visits.
Generally patients should take a minimum of 2 weeks off from work if the job is mainly sedentary. For men with more strenuous jobs 6 weeks is more realistic.
Candidates
Additional preoperative testing may be necessary other than the usual blood and urine tests.
Men who have hanging skin folds over the abdomen, hips and flanks and want to improve their shape are good candidates for abdominoplasty.
Patients must be in good health and have no untreated underlying medical conditions. Patients with diabetes, high blood pressure and other conditions can have elective surgery as long as their condition is well optimized by their doctor.
Getting Started
The first step to acquiring a more slender toned body is to arrange an initial consultation with Dr. Younai for a tummy tuck in Los Angeles. He is honest and enthusiastic with his patients and focuses on helping them get the result they want. Once he understands what his patients are hoping to achieve, he examines them so he can give his recommendations. Patients can see the potential result of the procedure they are considering though the many before and after photos that Dr. Younai has available.
This procedure is major surgery, best performed by an experienced and talented surgeon, such as Dr. Younai, who has experience performing tummy tucks for men in Los Angeles & Beverly Hills.
Schedule A Consultation With Dr. Younai
Call us at 818.386.1222, or schedule an appointment online.