Brazilian Butt Lift
Consultations offered at our two convenient locations in Beverly Hills and Los Angeles, CA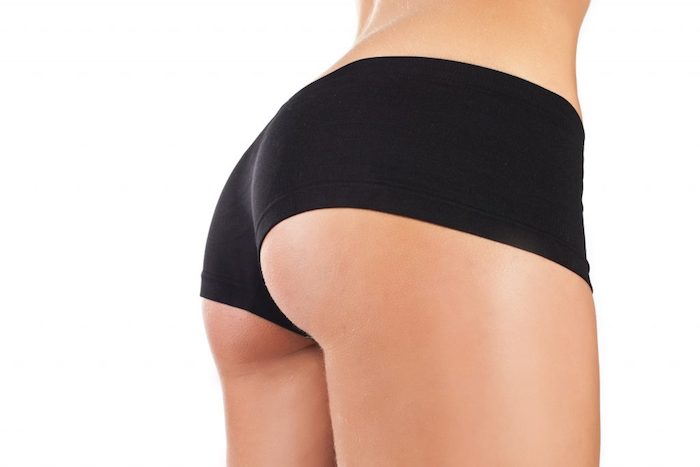 It is very common for women to want to correct a butt that is too small, flat or flabby by surgically sculpting a sexier, rounder and perkier behind.
In these cases, a Brazilian butt lift in Los Angeles with Dr. Younai is the ideal solution. It uses unwanted fat from another area of the body – such as the abdomen, hips or thighs – to add volume and enhance the size and shape of your butt, creating a slim and shapely silhouette.
How Is A Brazilian Butt Lift Performed?
Before your butt lift in Beverly Hills, Dr. Younai will administer either general anesthesia or intravenous sedation to ensure your comfort and safety. He will then perform liposuction to extract unwanted fat from another area of your body – such as your abdomen, back, hips, thighs and arms. Not only will this step provide the fat necessary to augment your behind, but it will also create a slimmer body contour, which will enhance the prominence of your new buttocks.
From there, Dr. Younai will process and purify the extracted fat using a special filtering system that prepares only the best fat cells to be re-injected back into the buttocks. He will then transfer the purified fat into the buttocks through a series of injections at various depths and positions, ensuring a uniform, smooth and natural appearance.
Before & After Photos
How Long Do The Results Last?
The results of your Brazilian butt lift are largely dependent on the skill of the surgeon performing the procedure. With that said, as long as your procedure was performed correctly by a board-certified plastic surgeon, like Dr. Younai, your Brazilian butt lift results should be extremely long lasting, and you will not require any touch-ups or a second round of fat injections.
Recovery
As a Brazilian butt lift is a major surgery, there is a substantial recovery period associated with the procedure.
For the first week following your Brazilian butt lift in Beverly Hills, you will need to stay in bed and drink plenty of fluids. For the first two weeks, you will be advised to wear a special compression garment to control swelling.
In addition, you will not be able to return to work, drive or sit directly on your buttocks for at least three weeks to ensure a safe and optimal healing process. Approximately one month after the operation, most patients are able to resume their normal daily activities. However, Dr. Younai will advise on your specific recovery guidelines at your post-operative appointments.
Am I A Candidate For A Brazilian Butt Lift?
As with all of his cosmetic procedures, Dr. Younai determines candidacy for a Brazilian butt lift on an individual basis, following a full physical examination and a thorough discussion of your cosmetic needs, goals and desires.
With that said, you may be considered an ideal candidate for among the best Brazilian butt lift Los Angeles has available if you are a healthy non-smoker and realistic in your expectations of what the surgery can accomplish.
In addition, you should want to add volume to your buttocks, rather than remove excess tissue, and you should possess a significant amount of unwanted fat elsewhere on the body that Dr. Younai can use for the procedure.
Getting Started
Undergoing a procedure to enhance the size and shape of your buttocks is no small feat.
It's important to select a specialist you can trust for your Brazilian butt lift – preferably a board-certified plastic surgeon with a proven track record helping women create their ideal bodies.
With years of experience, countless successful procedures and a reputation for delivering among the best Brazilian butt lift Beverly Hills has available, few surgeons are more qualified than Dr. Younai to replace your small, flat buttocks with a sexy, round and perky derrière.
To get started, Dr. Sean Younai invites you to come into the office for a private consultation, at which point you will discuss your cosmetic goals and concerns, and he will create a custom surgical plan designed to sculpt the beautiful buttocks you desire.
Schedule A Consultation With Dr. Younai
Call us at 818.386.1222, or schedule an appointment online.