Breast Revision
Consultations offered at our two convenient locations in Beverly Hills and Los Angeles, CA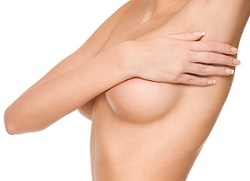 There are a variety of reasons a woman may require a breast implant revision, including asymmetrical breasts, poorly positioned implants, hollow areas or divots, deflated implants and capsular contracture (a hardening around the implants.) In general, these kinds of complications develop when the breast augmentation was performed by an inexperienced surgeon.
Fortunately, Dr. Younai is considered by many to be the 'go-to' surgeon for revising poorly performed breast implant procedures, fixing any imperfections and restoring a flawless appearance.
During your initial consultation, he will work closely with you to determine exactly what went wrong during your first surgery, as well as offer his recommendations on how you can achieve an optimal outcome this time, with among the best breast revision Los Angeles area offers.
Before and After Photos
Reasons for a Breast Revision
Your breast revision procedure will be entirely customized, depending on your unique cosmetic goals and the complications that have arisen since your primary procedure. To begin, Dr. Younai will administer general anesthesia to ensure your comfort and safety, before re-opening your original incision and correcting any of the following issues:
Breast Implant Rippling
Breast augmentations with saline or silicone implants can both cause rippling of the breast skin.
Breast implant rippling looks like visible ridges or wrinkles on the breast, and is mostly seen on the outer or inner bottom of the breast. Most women can normally feel their breast implants and at times can even feel the implant folds or ripples. In women who have very think skin, scant breast tissue, and extremely large breasts implant ripples can become very noticeable.
How To Correct Breast Implant Rippling?
Breast implant experts usually don't recommend any intervention for palpable but non-visible implant ripples. On the other hand when implant rippling become very visible most plastic surgeons usually intervene, knowing that success can be limited or temporary! These are some of the techniques used to correct breast implant rippling:
Exchange to larger breast implants
Revision of breast implant pocket
Exchange from saline to silicone breast implants, or vice versa
Exchange from textured to smooth breast implants
Breast lift to reduce excess loose skin
AlloDerm graft placement
Fat grafting of breasts
Example Of And Correction Of Implant Ripples
This is a 42 years old Caucasian woman who after child birth and losing weight developed rippling of her breast implants, mostly over the inner bottom area of her breasts. She was also unhappy with the lack of cleavage.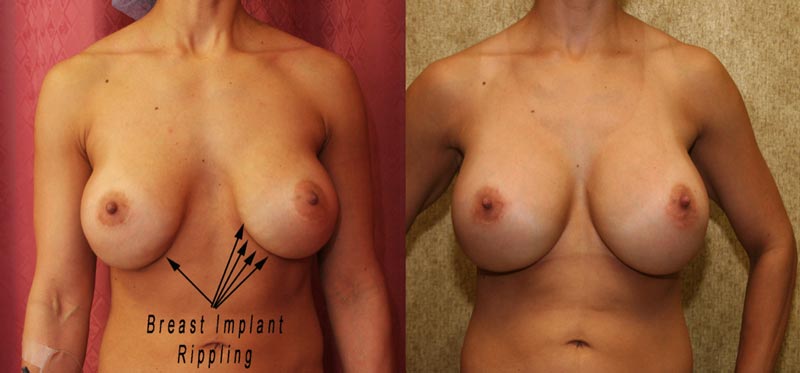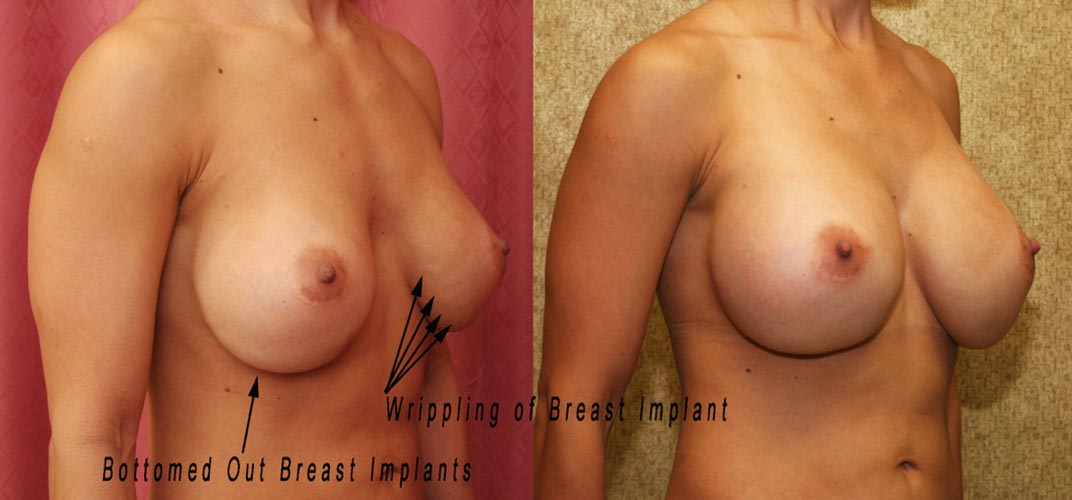 Dr. Sean Younai who is a breast implant specialist in Los Angeles reviewed her treatment options and possible risks and shortfalls. Considering that after weight loss she had also lost breast volume she elected to exchange her 375 cc breast implants with 450 cc round moderate profile saline breast implants. Dr. Younai also made adjustments to her breast implant pocket and capsule in order to create more cleavage, as well as to lift the breasts internally. After recovering for breast implant exchange and correction of rippling she is very pleased with her overall look and breast shape.
New Implant Size
If you decide to increase the size of your breasts, Dr. Younai will enlarge the "pocket" so it can accommodate a larger implant. If you want to reduce the size of your breasts, he will make the pocket smaller with sutures. Depending on your unique needs, he may also perform a breast lift at the same time to ensure an optimal result.
Poorly Positioned Implants
When your implants are placed too close together or too far apart, they are considered to be poorly positioned implants. To correct this issue, Dr. Younai will reconstruct a new, fully supported pocket for the implant so your breasts are positioned more naturally.
Capsular Contracture
Capsular contracture refers to a problematic scar tissue around the implant that causes the breasts to harden and appear distorted. When this occurs, Dr. Younai will remove the hardened area and the original implant, before inserting a new implant and will take special care to prevent this complication from occurring again.
Capsular contracture is one of the most common reasons for the need of revision surgery.
Usually the capsule that is formed around any foreign object in the body, whether it is a breast implant or a new hip, is thin and flexible.
When the capsule becomes thick and begins to contract, it causes the implant to change shape and become harder. The condition can be quite painful as well as aesthetically unacceptable.
One of the causes of capsular contracture is the introduction of bacteria into the implant pocket caused by bleeding in the capsule, bacteria on the surface of the implant or patient reaction to having a foreign object in the body.
Whatever the cause, Dr. Younai has a fastidious protocol in place to provide his patients with among the most successful breast revision Los Angeles residents could hope to find.
Shell Rupture
Both silicone and saline breast implants are contained in silicone shells, which are very durable and seldom leak. In cases of trauma to the implant from an accident, unintended puncture during surgical procedures or saline implant leakage the implant must be removed and replaced with a new implant.
The rupture may not be obvious in women with silicone breast implants as they are composed of a very thick gel which stays in the implant shell even if it is ruptured. That is why it is recommended that women with silicone implants receive an MRI screening or ultrasound on a regular basis to check the integrity of their implants. Women with saline implants will notice the deflation immediately.
If you have a leaking breast implant you can rest assured that you have found among the finest breast revision Beverly Hills can provide. Dr. Younai has performed thousands of primary and revision breast procedures resulting in beautiful, natural results.
What Causes Breast Implant Deformity?
As we all age, our bodies change, including our breasts and skin, resulting in the thinning of the underlying skin fat layer, loss of skin elasticity, and stretching of breast suspensory tissues. Multiple pregnancies, extreme weight gain and loss, and trauma can hasten the progressive aging and deformity of breasts.
Example Of Breast Implant Revision Performed In Los Angeles
This is a 56 years old Hispanic woman from Los Angeles who has had saline breast implants for 23 years. After having had three pregnancies and weight loss she noticed that her breasts were not only sagging, but also becoming hard and painful. Dr. Sean Younai diagnosed her with having grade IV or sever capsular contracture of her breasts. To fix her breast deformity, Dr. Younai proposed exchanging her breast implants, removing the hardened breast capsule, and performing a complete Inverted-T breast lift.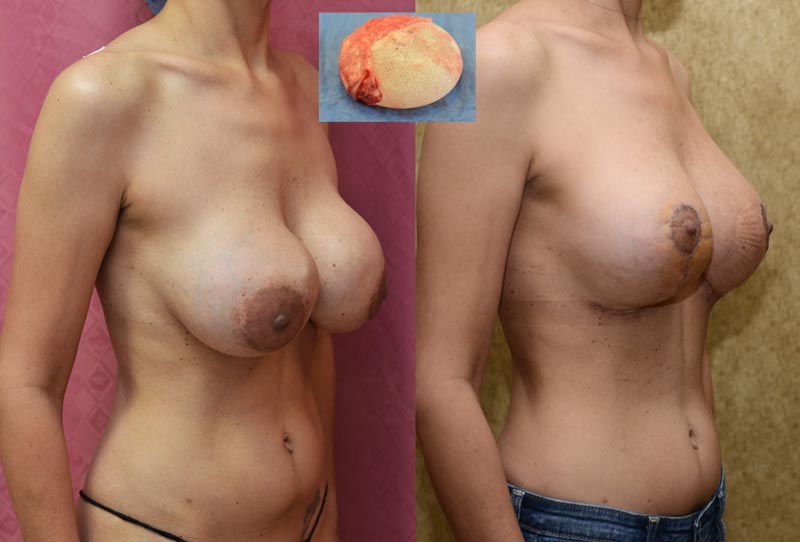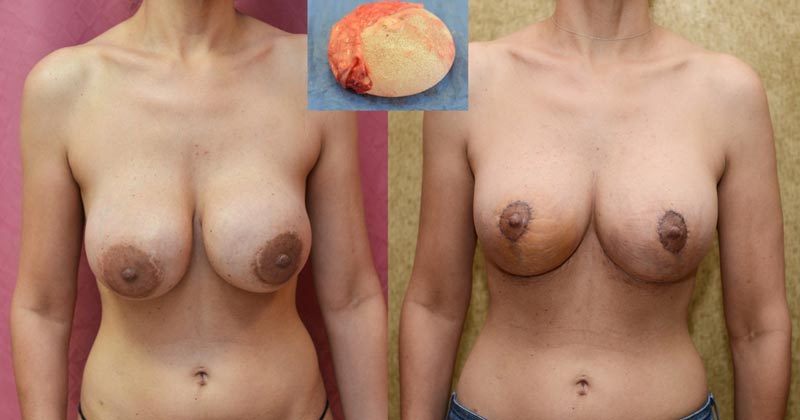 Recovery
For the first few days of your initial recovery period, it's a good idea to have a friend or family member stay with you to ensure your comfort. You can expect to experience some swelling and pain in the area, though it should be manageable with your prescribed pain medication from Dr. Younai.
Most patients feel well enough to return to work within one week, however you will need to avoid exercise, strenuous activity and heavy lifting for a minimum of three weeks following surgery. In most cases, you will be able to resume all of your normal activities eight weeks after surgery, although Dr. Younai will offer more specific guidance during your post-operative appointments.
In addition to providing procedures at his Beverly Hills office, Dr. Younai also offers breast revision in Bakersfield and Encino, for your convenience.
Am I A Candidate For A Breast Revision?
As with all of his cosmetic procedures, Dr. Younai determines candidacy for a breast revision on an individual basis, following a full physical examination and a thorough discussion of your cosmetic needs, goals and desires. With that said, an ideal candidate for among the best breast revision Beverly Hills has to offer is generally a healthy, non-smoking woman who is experiencing the following complications as the result of a prior breast augmentation:
Implants that are the wrong size or shape.
Poorly positioned implants that are too close together or too far apart.
Hardened scar tissue that has distorted the look and feel of the breasts.
Implant rippling or any other cosmetic deformity.
Getting Started
Many women feel extremely anxious about undergoing surgery, especially on their breasts. Naturally, they become even more nervous when it's a revision procedure, and they've already had one surgery with a subpar outcome.
In these cases, it's especially important to select a specialist you can trust – preferably a board-certified surgeon with a proven track record with complex revision procedures. With years of experience, countless successful procedures and a reputation for delivering among the best breast revision Los Angeles has available, few surgeons are more qualified than Dr. Younai to fix any issues with your breast implants and create the flawless look you wanted the first time around.
To get started, Dr. Sean Younai invites you to come into the office for a private consultation, at which point you will discuss your cosmetic goals and concerns, and he will create a custom surgical plan designed to revise your implants and achieve the ideal breasts you've always wanted.
Schedule A Consultation With Dr. Younai
Call us at 818.386.1222, or schedule an appointment online.