Tummy Tuck Scars
Consultations offered at our two convenient locations in Beverly Hills and Los Angeles, CA
One of the biggest concerns that women have concerning a tummy tuck is the length and position of the resulting scar. It is exactly this concern that separates an exceptional tummy tuck specialist in Los Angeles from the rest. Dr. Sean Younai, board-certified plastic surgeon, is proud of his skill in planning where the tummy tuck incisions will be placed. His patients confidently wear their bikinis and sexy underwear after his surgery.
Incision Location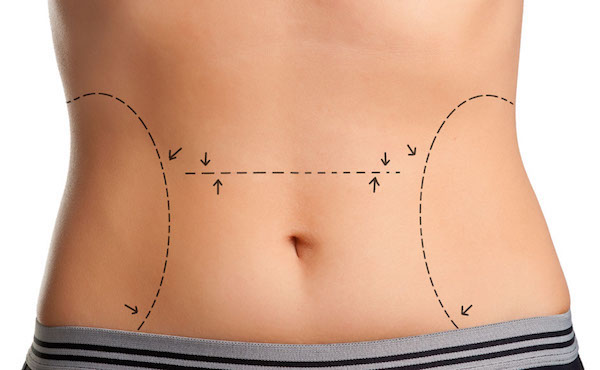 One of the most important conversations a patient should have with their surgeon is the length and placement of incisions. Patients need to be aware of the limitations connected with more extensive tummy tuck procedures. A good practice is to bring a bikini or undergarments to the initial consultations so exact placement of the incision can be marked.
The length and placement of the tummy tuck scar depends on the procedure. There are three main types of tummy tuck.
Mini tummy tuck procedures produce the smallest scar. These are similar to a C-section scar which goes the width of the pubic bone. Dr. Younai places the scar very low—just above the pubic hair line. In this location it is well covered by clothing.
Standard tummy tucks produce a scar that runs from hip bone to hip bone. The scar is kept as low as possible and although it is much longer than the scar from a mini tummy tuck, it is usually well hidden by clothing.
Extended tummy tucks treat more areas of the body, including the flanks and hips. The incision for this surgery extends the length of the abdomen to the back of the hips. The improvement in shape from treating the abdomen, flanks, hips and back usually more than compensates for the longer scar.
The scar will fade over time, but is usually very faded after a year. While it is harder to cover with a bikini, it is placed as low as possible to allow greater choice when shopping for swimwear and undergarments.
Before and After Photos
Care Of Tummy Tuck Scars
Dr. Younai provides his patients with instructions on how to care for the scar. Patients who follow these instructions have the best outcome; it is a matter of consistency. The compression garment must be worn as instructed to reduce swelling and to help the incision heal. Straining or pulling the scar can result in wider and raised scars. The use of a scar cream is permitted after the incisions heal.
Scar Revision
Even the best planned and placed incisions can sometimes require revision due to factors related to skin laxity, skin color, healing success and genetics as in the formation of a keloid scar. Sometimes the location of the scar finishes higher than intended. Whatever the reason, dissatisfaction with the length, width or color of a scar or the formation of skin tags, or dog ears, can be repaired.