Calf Implant Revision Surgery
Consultations offered at our two convenient locations in Beverly Hills and Los Angeles, CA
Calf augmentation surgery can have risks and complications, just like any other cosmetic surgery procedure in Los Angeles. Dr. Sean Younai is a Board Certified Plastic Surgeon who has had more than 20 years experience in calf augmentation, including calf implant revision surgery.
What Are The Indications For Revision Calf Augmenatation?
Malpositon or displacement of calf implants.
Capsular Contracture or hardening of calf implants.
Calf implant movement causing disfigurement.
Severe Asymetry of calf implants.
Example Of Calf Implant Malposition And Capsular Contracture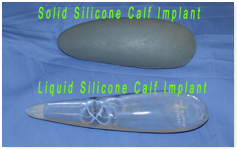 The pictures below are of a 23 year old body model who had undergone calf augmentation outside of the US. Unfortunately, they had used soft Silicone Gel calf implants that are similar to breast implants.
These implants had gotten hard, painful, and had moved out of place. As you can notice in his before and after calf revision surgery pictures his calf implant had moved superiorly and out of place. Not only did he have a wrong shape and size calf implants, but his implants had contracted and gotten harder because they were made out of breast implant-like implants!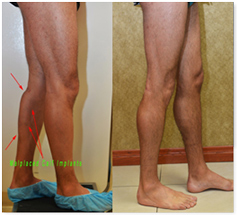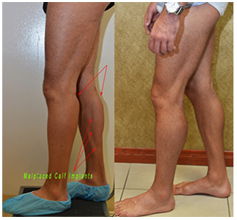 On his MRI Radiography pictures you can notice that his calf implant had "balled up" and had lost its natural shape.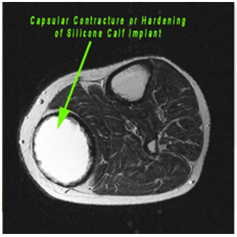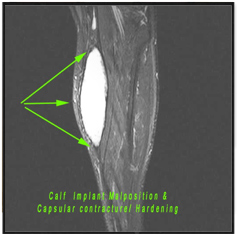 Being an expert in calf augmentation and its revision surgery, Dr. Younai first removed his original calf implants which are shown in the attached picture of calf implant. He then removed scar tissue and modified the size of the calf implant pocket in order to be able to place a more natural shaped calf implant. The position of the calf implant was also lowered to a more anatomic and eye-pleasing location.
He was extremely happy with the outcome of his revision calf implant surgery and was able to enjoy wearing shorts and continue participating in male body modeling.
Dr. Younai recommends that if you are considering calf augmentation, you should carefully research the experience, expertise, and results of the calf surgeon in order to avoid unnecessary revision surgery.
Schedule A Consultation With Dr. Younai
Call us at 818.386.1222, or schedule an appointment online.